Use Marketing to Build your Business and Sell it
Introduction
Every business wants to grow, but not always for the reasons you might think. For many business owners, the ultimate purpose of growth is to place their company in an attractive position to sell. Because this is the goal of many of the business leaders we partner with at The Marketing Centre, it's also become an important consideration for our Marketing Directors.
So what does marketing have to do with selling a business?
In a word: everything!
A well-marketed business – from initial brand vision to ultimate point of exit – is a more attractive prospect for potential buyers. At the end of the day, it all comes down to value.
When valuing a business, the general rule of thumb is value = profit x multiple. Common practice when selling a business is to ask for a certain number of years' profit, paid up front. The multiple (short for 'multiple of earnings for the sector') expresses how many years' net profit you can ask for, and stand a realistic chance of actually receiving.
Those businesses that just tick along can only ever hope to sell for the standard benchmark amount, depending on the industry. But one that consistently performs above industry norms, adding new talent and increasingly its scalability, shows that it has serious potential. It can then extend its multiple beyond industry norms, and the owner can realistically ask for – and expect – more years' profit when it comes time to sell.
All of which brings us back to the importance of marketing. Marketing helps your business show potential buyers the scalability of your company. By promoting your brand, products and services, as well as your possible routes to market, marketing helps position your business in a more favourable light than your competitors. This in turn makes it worth paying more for in a sale.
---
Shortcuts
---
Part 1: Benchmarking
What do we mean when we talk about benchmarking? With cricket world cup fever gripping South Africa at the moment, let's take AB de Villiers as an example. The former Proteas captain earned himself a cool R20.3m in the 2018 IPL season, playing for the Royal Challengers Bangalore. Kagiso Rabada, on the other hand, scooped "just" R7.7m in the same season with the Dehli Daredevils. On paper, however, Rabada looks like a more valuable player in the longer term. At 22 years old, he's 12 years De Villiers' junior, so has a much longer career path ahead of him. He was also, at the time, the No.1 test bowler in the world.
But of course, the value of a player is not all about what he looks like on paper. De Villiers' significantly higher value is less to do with his ability as a player and more about the sheer pulling power of his name.
It's the same with a business. A company's value is about so much more than how much profit it makes. If you want to get the best price possible when it comes to selling, a buyer needs to see potential that goes further than the spreadsheet. This mix of value and potential is encapsulated by the multiple.
It sounds simple, but calculating the multiple in the first place is not an exact science, as it's based on a considerable number of variables. These include tangible and intangible assets, geographic trends, the size of the business, and owner risk (how independent it is from the owner), among many others.
Multiple of earnings - what does it really mean?
Most industries have a multiple that they use as standard – for example, two, four, or 10 times a company's net profit. This is not to say, however, that your particular company will sell for that much. There are many factors at play here. Small businesses usually sell for less than larger ones, sometimes struggling to get even three years' profit as the asking price – even if the standard multiple is five.
Some businesses are so niche or disruptive that there isn't an existing multiple for their particular category. And sometimes, the net profit figure includes certain factors that a new owner won't find relevant, such as once-off expenses, exceptional bad debts or directors' costs, for example.
All these scenarios can throw a company's year's profit off balance, and skew the perception of the business' true value. This is why net profit isn't necessarily the best place to start when it comes to determining the value of a company.
Another factor that can influence company value is management style. Owners of SMEs typically underplay their influence on the company's performance, while corporate leaders, shall we say, do not! Smaller businesses also spend money differently to corporates. The two co-founders of a start-up might decide to celebrate their fifth successful year in business with an extravagant overseas holiday for their families. Managers of big firms are less likely to spend money in this way.
In any given industry there are small players and big players, none of whom may run their businesses like yours. This makes the industry multiple an unfair comparison.
Of course, there are those who question whether the multiple itself is even accurate. To be honest, as with anything in life you ever want to sell, the asking price is ultimately set by what a buyer is willing to pay. High profile, big-money take-overs drive the sector unrealistically upwards, whereas conservative buyers have the opposite effect.
At the end of the day, best practice is to value each business as a unique entity and not by a cookie-cutter calculation. This is why proving how valuable your business is begins at home – it's your responsibility to show the industry how much you're worth instead of letting the industry dictate your value to you.
And this is where marketing comes in.
Benchmarking - how to find and improve the value of your business
Although you should let industry determine the value of your business, it is helpful to benchmark your company against others in the industry to see how you compare value-wise. It's true that hundreds of non-marketing factors – such as projected cash flow and assets, for example – influence business value. But marketing can make a significant different in other areas. These include:
Market Share

- how many customers regularly buy from you.

Market influence

– are you a thought-leader and trend-setter in your industry, even if you don't have the largest percentage of market share?

Brand positioning

– your customers' – and competitors' - perception of your brand influences your profitability and how much space you have in which to innovate.

Profitability

– what is your current, potential and future income? How does this compare to the industry standard for businesses similar to yours?
Of course, marketing alone won't convince a buyer to buy. Hard, tangible numbers, such as how much return on investment (ROI) you get on your marketing spend, are what influence your business' overall value.
So, how do you show ROI? Essentially, there are two key metrics: cost per acquisition, and marketing spend as a percentage of sales. By investing in these two areas, you will see the impact on your bottom line – and this gives you something meaningful and concrete to show potential buyers. This is why, when you start the process of selling your business, you need to begin with creating – and implementing – a growth plan.
The best way to do this is start with a SWOT analysis – analysing the Strengths, Weaknesses, Opportunities and Threats of your company as it is right now. When you break down your business into these categories, it becomes much easier to see where you need to focus most of your attention in order to ensure maximum value.
Part 2: Business branding
As we've seen, a business is worth far more than the sum of its parts. In other words, its value lies in more than just its tangible assets. When you sell your company, you're not just selling products, buildings and equipment. You're selling an identity – a name, a reputation and a vision. You're selling your brand.
Building your brand is best practice anyway, evening if you currently have no intention of selling your business. But it becomes particularly important in the run up to a sale. A company with strong brand values is coherent, directed, future facing and valuable. In other words, it's worth buying.
All businesses have a brand, even if you've done nothing to consciously manage, develop or build it. Your brand is so much more than just your logo – it's the entire way your customers see you. From your customer experience to marketing collateral and everything in between, everything you do impacts the equity of your brand. Whether this equity is positive or negative is up to you. But naturally, the more positive brand equity you have, the more valuable your business becomes to a potential buyer.
How does a business' brand improve a business' sale value?
When we talk about brand value, we're referring to the core concepts that resonate throughout key areas of your business - such as customer relationships, business operations and messaging – and how they stack up against your competitors. As well as, of course, how easily customers – either in the street or online – recognise you. Brand values are particularly evident in the type of coverage your brand receives – from editorials and reviews, for example - that position you in a favourable light when compared to competitors, or in the way that you've responded to customer's needs.
How to build a more valuable brand
A company with a positive brand has a lot of power when it comes to negotiating a selling price. But true brand building has to come from the top. As a business owner, you need to know what you – and your company – stand for. Only then will you properly be able to communicate the key benefits and qualities of your brand to potential buyers. These unique selling points (USPs) are the essence of your brand, and understanding them in depth is the key to establishing other brand elements, such as visual identity, tone of voice and vocabulary.
Although there might be many brands with bigger marketing budgets, and more resources to throw at the problem, you can, with careful honing of your value proposition, make a limited budget go a long way. Spend time on your marketing plan, and make the effort to produce quality content. Combine this with tangible numbers that give a clear indication of exactly what your marketing efforts have achieved, and you'll have a very attractive package to show potential buyers. It doesn't make sense to spend money unnecessarily. What's important is being able to show that every Rand youhavespent has delivered results.
An area where brand values are often underappreciated, and yet are hugely important, is that of recruitment. Do job candidates get your brand? Do they understand how – and why - you do business? If they don't, don't hire them. It's as simple as that, as it holds true whether you're recruiting a new CFO or a junior admin assistant. If your own employees don't believe in your brand, how will they ever be able to convince others to?
This brings us to the next rung on the business sale ladder:
Part 3: Employer branding
Although naturally very important, your customers – existing and potential – aren't the only ones whose opinions of your company count. Potential employees will do their homework before accepting a job offer – or even coming for an interview. They'll find out what your current and former employees have to say about your business, and what it's like to work for you. They'll discover who you are and what you stand for.
Employer brand is basically the appearance of your business from the external perspective of an employee. It's what you say on your website, and what other people say about you online. It's your recruitment activities and how you advertise vacancies. In short, it's how your business outwardly portrays itself.
It's true that typically, a business value calculation only looks at profit and revenue, but buyers want to go beyond the numbers. They want to know if the company they're interested in has a dynamic, viable culture with great potential. They're buying the people who work at the company in addition to the company itself. A strong employer brand attracts and helps to retain the right talent. This in turn attracts buyers, and adds an extra sweetener to help close the deal.
How does an employer brand improve a business' sale value?
Employer brand has a huge - albeit indirect - impact when it comes to selling your business. Value might be determined according to turnover and profit, but the final decision is sealed by operations and potential. If a company is hemorrhaging staff because of poor management, it's not a good investment – no matter how much money it makes.
Employer branding is particularly important for SMEs. In these companies, most employees know the owner, and may even work alongside him. This personal relationship has an impact that reaches across all levels of the organisation. The owner, or leadership team, sets the tone for the rest of the business, and everyone else is influenced by the actions of the people at the top. Owners and managers who visibly live by the company's values have a significant and beneficial impact on company culture. A failure to do so creates a disappointing air of inauthenticity, and negates any claims the brand makes. Disinterested, disengaged employees aren't invested in contributing to the success of the company because they know its ethos to be fake. Business buyers are as unimpressed with fakes as the employees.
This is why internal marketing is so important – it supports strong leadership by helping to communicate brand values to employees.
How to build a valuable employer brand
This comes down to two things – taking good care of your people, and creating great marketing collateral. When we talk about marketing collateral, we mean looking at marketing the business itself, and not just the products or services it sells. Because your brand's value is less about what you sell, and more about who's doing the selling.
When we work on marketing collateral, we start by looking at what's already there. What does your marketing material – particularly your website - say about you as a company? Does your "About Us" page showcase your actual team? Does it have real people, telling real stories about what it's really like to work for you? Video content is a great way to showcase your company culture. Don't go for obviously sculpted and scripted promotional material, though. Use something authentic that shows off the different types of people who work well together.
For employees to be willing to extol your company's virtues, they need to feel well looked after. Are they offered training or other developmental opportunities? When you invest in your people, they will give you a good return on your investment.
Employee development is best achieved when HR and marketing work together. Try starting with a joint workshop, using everything you'd usually use for an external, customer-facing event. And make sure the business owner stays away! The idea is not for them to feel intimidated, but to be made to feel positive about your company so they become active advocates for your brand.
This is such an important step, but so many companies leave it out when they scale, choosing to focus on the numbers and forgetting all about the people. But when you're getting readying to scale, your people need to be as excited, engaged and ambitious as you are. Don't leave them out.
Part 4: New product development
Even when you, as a business owner, are planning to exit your company, it's still extremely important that the company continues to deliver its products or services to the market. Even when you're preparing to sell, you have to ensure that there's something new and exciting in the pipeline, so that potential buyers can see the company is continuing to move forward.
Of course, a "new" product doesn't have to mean something completely untried and untested. It simply means finding different places to go from where you already are, with the minimum amount of risk.
The Ansoff Matrix ranks new business development strategies on a scale from least to most risky. For example, selling a brand new product to a new customer is the most risky strategy, while selling a new product to existing customers is far less so, as it at least keeps one foot in familiar territory.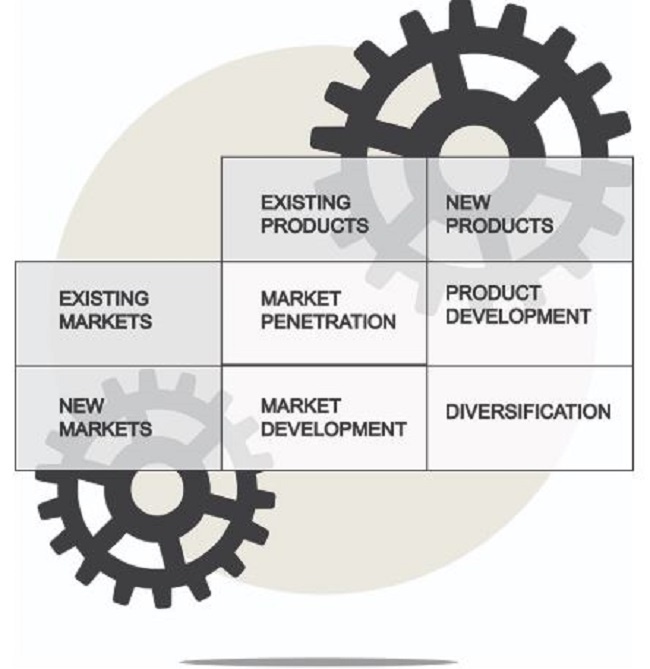 There's a difference between effective innovation (giving your customers things they want) and vanity projects (doing things because you want to). As long as you're focusing on meeting genuine customer needs, you can significantly increase the value of your company.
How does new product development improve a business' sale value?
New products are not as important to future owners as the mechanism of innovation. Markets are constantly changing, and an active policy of new product development shows a buyer that you're on top of market changes.
But when it comes to innovation, it's not really even about getting it right. It's about tryingto get it right. It shows possible buyers that you're in tune with industry trends and are not afraid to focus on the future. It also shows you listen to your customers and put their needs above your own.
How to build value through new product development
This is once again where your marketing strategy comes into play. A SWOT analysis on your products and those of your competitors may well highlight new avenues for your business to explore. Talk to your customers and see what ideas they have. You don't have to reinvent the wheel here. Start with upgrades or newer models of an existing thing. New products that don't stray too far from the old are less risky.
Developing new versions of old products – or even just new ways to package existing ones – is a great way to find the sweet spot between too safe and too risky. Your customers stay interested, your business stays relevant and up to date, but your entire bank balance is not on the line!
Part 5: Route to market
New product development and routes to market go hand in hand. Yes, everything we've just been speaking about – benchmarks and brands – count for a lot. But perhaps the simplest element of them all is this:
How you put your product or service in front of the people who want to buy it.
It sounds obvious: if you want to sell something, you have to meet your potential buyers where they are. Market research will tell you where this is, and you can then work out the available routes and see which ones you should be using to reach your customers most successfully. This logic works whether you want to sell a single product or service, or your entire business.
How do routes to market improve a business' sale value?
If you're not selling where your target customers are looking, and in a way that they want to be sold to, your business' value (and profit) are limited.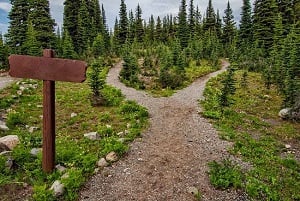 Your routes to market have to be clearly and strategically defined in order to make your business attractive to buyers. Maybe your existing routes are suitable now, but buyers want to see that you're not sitting back, happy with the status quo. They want to know that you're optimising revenue by testing new routes, tracking customer behaviour and monitoring the competition.
How to choose the most valuable routes to market
By tracking customer behaviour, you can determine which routes best meet their needs. Choosing which routes to expand should be based on customer habits. How do they like to buy? Where do they look for the products and services they need? Then tie this in with your business operations, factoring in budget, logistics and distribution capacity.
If you have complex offerings, requiring personal contact with your customers, then direct selling via a bricks and mortar shop, online via a website, or face to face works best. Your other choice is to sell through a third party agent, although this does make your company reliant on another, and largely dependent on them for marketing.
Online routes only – such as email marketing, PPC advertising and/or an eCommerce platform – work well for many products. Most businesses, however, end up choosing a combination of routes to market.
The bottom line is this: if you can grow your capacity to sell, you can grow your customer base, your revenue and the future value of your business. Optimising your routes to market affects both net profit and the more undefined potentials that set your multiplier.
Part 6: Scaling a business
How the business does business needs to change. That's scaling up. The potential to do that - scalability - is the single biggest thing buyers are looking for in a business.
This is where everything you've read so far really comes together.
Some businesses hit a growth ceiling no matter how amazing their product or service. This is because growth is less about what you sell than how you sell it. If your growth has stalled, then something about the way your business does business needs to change.
Scalability is the single biggest thing potential buyers look for in a business before thinking about buying. They like to see opportunities for growth beyond your current revenue streams. If you can show this, you can demand a higher price. This is once again a marketing matter – planning the growth of your company and knowing how you're going to present it to buyers.
There are essentially four main elements to prove to buyers that your business can scale up with the best of them: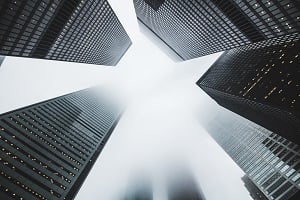 Leadership
Businesses without good business leadership will never scale. In startups, the business leader is also often the main innovator behind the company's offerings. There's no doubting their technical wizardry, but these are often the kinds of people who learn business leadership as they go along. This is not usually a problem at the beginning, when the business is small, but good leadership quickly becomes critical as a business grows.
Where does marketing come into the equation? Remember we said this is all about the brand. A business' brand is guided from the top, and a fish rots from the head. Marketing can help communicate a brand's values within the business and beyond so that it is exemplified in everything the leadership team does.
People
You can't grow without the right people. As you expand, you need new expertise that wasn't needed at the beginning. Sometimes you need to grow in several different areas at once.
To attract and retain the right talent, you'll need a good employer brand to show potential new employees that your company is definitely somewhere they want to work.
Process
In the early days of a small business, people often just do what works rather than following any formal process. Processes are often developed organically as a result. As your company gets bigger, however, a more formal focus on operations becomes imperative. Value comes from how well your business is performing now, and how well you can predict it will perform in the future.
Forecasting
Forecasting is crucial for a business that has to show its ability to scale. Why? Because managing cash flow is more important when you're looking to grow rapidly. You have to spend money to make money, but you also have to know which investments are paying off and which aren't.
Growth is what pushes against the multiplier, and it's what breaks through the threshold so often experienced by SMEs when they want to sell. If you can confidently and, more importantly, accurately, show how this year's profits are predicted to grow next year, and the year after that, you can set an asking price that goes beyond this year's performance times X.
Growth comes from business development, innovation, talent, and, of course, sales and marketing. When it comes to marketing, you need a watertight grasp of the important metrics: average lead time, conversion rates, average sales value and cost per acquisition, as well as what marketing budget you need to make these targets.
A business with excellent year-on-year results is undoubtedly appealing to buyers, but one with a clear roadmap for scale is far more attractive.
Conclusion
Preparing to sell your business is hard work. Your company has to be running at its peak – there's no room for weaknesses. Sales, recruitment and marketing efforts must be stepped up, and all efforts must be made to show buyers how your business can scale beyond industry benchmarks.
As you can see, marketing helps make your business more valuable than traditional valuation rules might suggest. Marketing presents your business as a growing concern, instead of just a going one. The more future value you can show, the more your business will be worth when it comes time to sell.
This sends a very important message: You're not selling because your business is on the way out. You're selling because it's worth buying.