How to get your current customers to spend more
Marketers often concentrate their efforts on new business, but sometimes, the fastest and most cost-effective way to expand your business is to look at your existing customers. In fact, the success rate of upselling or cross-selling to a current customer is around 50% higher than selling to a new one for the first time.
Business leaders should have a clear approach for how they find new customers, but also how they retain existing customers and increase their spend. In this post, we'll look at four ways you can raise the amount that your existing customers are spending with you.
Analyse your customer's buying habits
The best place to start is understanding your customer's behaviour. Most businesses will have several products or services. A good exercise is to plot out your existing offerings and see who's buying what. Unless all of your customers are buying all of your services - quite an achievement - it will be easy for you spot wholes. It will also be easy for you to spot customers that are under-spending or customers who used to spend more than they do now.
You may also wish to group your customers by their sector, size or business needs. If certain offerings are popular within one of these groups but there are customers within that group that haven't bought them, there could be an opportunity there.
Follow your customers' purchase history, if something changes find out why. Follow up and reengage them.
Up-sell and cross-sell
Up-selling and cross-selling are alike but subtly different. Up-selling is inspiring existing customers to buy higher value services and cross-selling is encouraging customers to buy other services that could fit their needs.
In either case, the best time to do it is while customers are in the process of making a purchase. Existing customers who are presently in the market are going to be more likely to increase their spend than those who aren't.
Offering valuable combinations of complementary products at a discounted price is a common cross-selling practice, one that Amazon do particularly well. Otherwise, you can promote a more expensive but higher-quality type of the product they've already decided to buy in order to increase the value of the sale. A direct evaluation of the original product and the more expensive one, clearly showing the added value, is a great way to achieve this.
Innovate
The other way to sell more to your existing customers is to create new offerings. Obviously, this will require more effort than encouraging your existing services. But once you've maximised the value of your present customers and services, this is the next step.
A suitable model for understanding this decision-making process is the Ansoff Matrix, which we've featured before. This article focuses on the quadrants on the left and this section of the article is focused on the bottom left area specifically.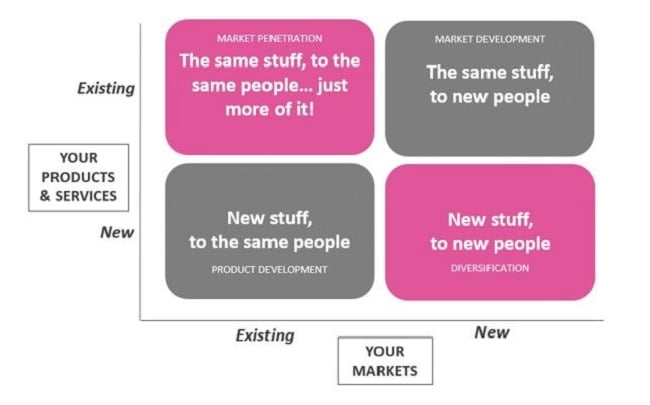 If you decide to introduce a new offering, it's important to be clear about the value it adds for the customer and how you will take it to market. Ideally, you want to produce offerings which compliment your current services, making them easier to upsell or cross-sell. You want to analyse what your best-selling services are at the moment and ask yourself if there's anything new you can offer as an add-on. Ideas which are fixed in what you know already works are a safer bet than those which are quite different from what you currently offer.
Add value and create content
Customers appreciate businesses that offer them the benefit of their skill. Adding value by offering advice is a great way of strengthen relationships and encouraging customers to spend more. This advice can be passed on individually, or it can be published on your website or distributed via a newsletter.
If you do decide to create content for your website, your main goal should be adding value for your customers and helping them solve problems. Content which is obviously promotional tends to underperform and may have a negative impact. After all, we don't need any more spam in our inboxes.
Always track your performance
As with all marketing activity, track your performance and keep a record of what's working and what isn't. If you notice that a particular cross-selling or up-selling tactic is performing well, then amplify it. As stated earlier, increasing your existing customers' spend is the most efficient route to thrive and a proven tactic that can do this is a boon for any business.
Your customer relationships are important so don't try and squeeze so much value out of your existing customers that you push them away or irritate them. Be careful and methodical in your approach and focus on adding worth rather than just driving up the price. Start by analysing your current customer base and what they're purchasing, then look for opportunities to cross-sell or upsell. Once you've made the most of your existing customer relationships, it's time to develop new services or find new customers by turning leads into sales
You can find more advice and information on how to ensure that your marketing efforts are generating a return on investment: How to get Return on Marketing Investment.