I recently attended an 'Agile for Executives' workshop with one of our clients and, after more than 20 years of working within the creative, branding, marketing and UX fields, the organisational attributes of the agile methodology and incorporated design thinking sheds all predetermined ideas of 'the ways things should be done'.
Agile is a project management methodology (commonly used in IT software development) that uses short development cycles called sprints to focus on continuous improvement in the development of a product or service.
Why are marketers such late adopters to this brilliant methodology? Agile makes sense and follows the incremental stages of initiate, design, develop, evaluate, adjust, revise and when full acceptance is achieved: deploy.
No more traditional, pre-orchestrated ways of working; it adopts a collaborative, organisation-wide way of generating ideas and problem solving. There is no rigid structure, it is 100% kinetic and prompts constructive criticism and productive solution development during the process – you don't wait for completion before providing feedback.
No more working in silos or adhering to hierarchy or following a rigid plan. Agile demands absolute collaboration and is 100% customer focused.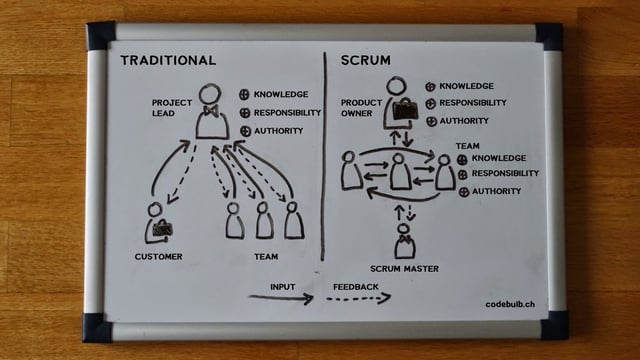 This way of working isn't for sissies: it requires quick responses, deep dive attitudes and absolute commitment, while encouraging an environment where you want to work. But at the end of each sprint you no longer resent the scrum master and begin to appreciate the process of customer discovery that agile will deliver.
What this does is encourage thinking on your feet and pitching the first idea that comes to mind, which is often the best one. Workflows are organised in sprints and you work together from conception to completion. This teaches you to listen to others, to appreciate the value of working as a team and being completely reliant upon the valuable expertise that your agile team brings - which is something we should all be doing more of.
Partnered with solid marketing plan, using Agile methodology could result in impactful change - at a fast pace!
How is your marketing department performing?
If I have wet your appetite, below are 12 key principles that guide agile project management (ref: www.cio.com):
Customer satisfaction is always the highest priority; achieved through rapid and continuous delivery.
Changing environments are embraced at any stage of the process to provide the customerwith a competitive advantage.
A product or service is delivered with higher frequency.
Stakeholders and developers closely collaborate on a daily basis.
All stakeholders and team members remain motivated for optimal project outcomes, while teams are provided with all the necessary tools and support, and trusted to accomplish project goals.
Face-to-face meetings are deemed the most efficientand effective format for project success.
A final working product is the ultimate measure of success.
Sustainable development is accomplished through agile processes whereby development teams and stakeholders are able to maintain a constant and ongoing pace.
Agility is enhanced through a continuous focus on technical excellence and proper design.
Simplicity is an essential element.
Self-organizing teams are most likely to develop the best architectures, designs and meet requirements.
Regular intervals are used by teams to improve efficiency through fining tuning behaviors.
Image source: codebulb.ch