Digital Marketing 101: Email Marketing
If you are not email marketing, it begs the question why.
You might have heard the term 'spray and pray' and chances are that you may also be frustrated at spending so much time, effort and money to place huge content in as many places as possible, hoping someone sees it.
The humble email
In its most basic definition, email marketing is the promotion of products and services via email. In its evolved definition today, it is direct mail on steroids that lets you directly target exactly who you want to engage with and cultivate meaningful relationships.
You can't be faulted for thinking email marketing had fizzled out of the B2B marketing mix, as the digital age took hold and social media, search engine and mobile marketing exploded, but you couldn't be more wrong.
It is perhaps because of this digital and social cacophony that the humble email is very much alive and kicking. Businesses are paying increasing attention to this channel and you would be challenged to find research results that indicate anything other than that email marketing is the most effective digital marketing channel, pipping social media, SEO and PPC to the post.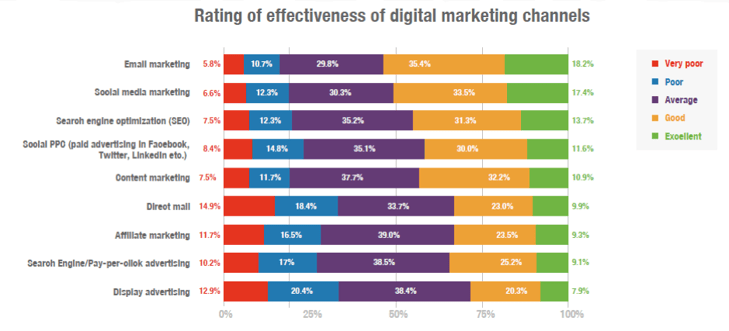 Source: Email marketing and marketing automation excellence report 2017
Types of email marketing
There are lists of the types of emails that can be used depending on the purpose of your email campaigns, but basically the types roll up into two groups.
Transactional

emails
The goal is quite simply to initiate and close a sale.



Brand

engagement emails
The goal is more about telling your brand story and keeping the audience engaged and interested in your brand.
However, you'll find that they are not stand-alone, and that there will be times when you'll do the relevant brand engagement job in a transaction email and vice versa.
Most common reasons to email market
There are many types of email campaigns from the lists referred to above, but before you get to integrating them into your communications strategy, first carefully consider the role of email marketing in your marketing strategy and how it should most effectively and sustainably serve both your business and customers.
Start by clearly establishing what you want to achieve and you'll find that your objectives will roll up into one of these four common strategies, which are all essentially about creating engaged and actively profitable customers:
Customer

acquisition and sales generating
Purpose is to generate new revenue for your business by converting a lead to a buyer, or by encouraging existing customers to make a repeat or new purchase. These types of emails typically have the highest response rate.



Customer

Retention
Purpose is to retain existing customers and to try and ensure that they keep coming back to make a purchase or renew their contract with your business.



Customer

Re-engagement (Win-back)
Purpose is to try and re-engage or win back lost customers. As we all know, it is way more cost effective to retain or win back a customer than to acquire a new one. Therefore, while understandably having possibly the lowest response rate, it is nevertheless important to include re-engagement email activity on your marketing calendar.



Brand

and Customer Loyalty
The purpose is to maintain brand awareness and keep your

brand top if mind, while encouraging loyalty by customers feeling like they have a relationship with your brand. While not directly revenue generating, meaningful and relevant brand engagement should see your customers spending more with you in the long-term and becoming brand ambassadors who are more likely to refer business to you.
Some core things to consider when email marketing
Cracking the Inbox nod
We can control who we admit to our inboxes and tend to guard them like Siamese cats to a Japanese emperor's palace. When prospects and clients sign up to receive your email communications (or at least don't unsubscribe!), this portion of your market is gold – they are indicating commitment to engage and an interest in what you have to say.
In getting this conscious nod (i.e. you haven't spammed them) from prospects and clients welcoming you straight into their inbox, you have achieved immediate and mindful engagement with this portion of your market and have a higher guarantee they'll receive your communications. Getting into their inbox is a tremendous privilege.
Getting valuable face time
With email, there is a better opportunity your content will be seen read than, for example, interrupting your audience with an ad while they're focused on something else, or hoping they'll catch your post on their newsfeed while new newsfeeds tumble onto their wall after yours.
Brands need to be where their audience is and according to The Digital Landscape in South Africa 2017report, while mobile accounts for 75% of all web traffic (so be sure to have a highly responsive website and a mobile-first strategy) and social media is the main reason why people are accessing the internet, almost 60% access the internet via desktop and spend 33% of the reported average of 14 hours a day on the internet checking emails.
If you have such a large audience not only sitting behind a desktop but also spending so much time each day accessing emails, it stands to reason that this could be considered a captive audience for your email campaigns.
Targeted face time
Email marketing provides the channel to directly reach the right audience with the right message at the right time.
Directly reaching the right audience means first segmenting your market. As a starting point, Wikipedia offers a really user-friendly summary of how to use the broad framework of segmenting, targeting and positioning (STP) in the step-by-step process of segmenting your markets. This is where you start laying the foundation to take the 'spraying' out of 'spraying and praying'.
S

egment – identify the primary market you want to segment. Then define, select and apply the segmentation criteria to sub-segment this market, and develop customer profiles (persona) for each market segment to guide the identification of good quality and qualified new business leads.
T

arget – Establish which segments are the most attractive to your business and those you want to consider targeting with your email campaign. Obvious is to choose the most profitable segments, but remember that you can also use segmentation to identify markets you know little about, and target this segment to find out more about them and its potential value to your business.
P

osition – In this final process, you want to identify or create your competitive advantage – what sets your brand apart in this segment - and distinctly position your brand in the minds of the consumers as to why they should choose to do business with you and not a competitor
The Database
Needless to say, The Database is the loadstone of email marketing as, after all, it is the repository of all that valuable gen about your prospects and clients and it should be your leads generation pot of gold. The devil truly is in the detail and The Database is where sweating the small stuff can take on a whole new meaning as you collect and organise the data.
Like defining the criteria used to segment your markets, there should be a purpose to building The Database and an idea of how you plan to use it, so that you know what data to collect.
Two main things to consider are that you want to set and maintain a high level of data integrity, which means collecting quality date. And collecting quality data takes time. But really, if you're doing this in-house, the key data you need to kick off your email marketing could look like this:

Pretty self-explanatory, but it is worth highlighting the inclusion of a few fields that will immediately save you a bunch of trouble when generating Lists (a database of email recipients) on an email service and bring credibility to your brand make your sales force and financial guy love you.
Geographic details

– geographic segmentation is important, as you want to be sure that you can service the market segment and/or that they have access to your product or service.
Expect a knock to your brand credibility if you are unable to deliver, and sustain delivery, on your brand's promise (value proposition) to that market. And why squander money on emailing leads that are an obvious dud for generating revenue for the business and offer no ROI.



Secondary industry segment

– if you're B2B and depending on the list (database) segmentation that you choose to use, it may be valuable to drill down the Industry segment, especially if there is a multi-divisional organisation on your database. This drill down can immediately expand new business opportunity (as you identify and profile the various divisions) or it may immediately eliminate prospects from The Database (divisions who have no need or your product or service, or have no decision making powers). Often, the more comprehensively your data and the smarter the list segmentation criteria, the more effectively this tool can be in maximising sales opportunity and marketing spend.


Job Function– you ideally want to maximise ROI opportunity of your email marketing efforts and identify and get into the inboxes of the prospect customers' decision maker(s). Where a more complex decision making process exists, there will probably be a number of people involved in deciding what and who to buy from. You'll want to identify what Philip Kotler, hailed as the father of modern marketing, termed as the decision making unit (DMU) and make sure that these people are on The Database to receive attention from sales and your email marketing campaigns.



Status

– this simple sub-segmentation of sorting leads on The Database into prospect customer or current client is invaluable. The last thing you want is to send a post-purchase email to a prospect customer, for example. This takes us back to how critical it is to not only manage the integrity of your data on an ongoing basis, but how a small oversight can damage the perception of your brand, hamper effective sales and result in inefficient marketing spend.
managing the integrity of your data
Getting the message across
You cracked the nod to get into the inbox, now you need to validate why you are there. If you're flying by the seat of your pants and knocking out ad hoc content, you don't have a plan. Content strategy should be well planned in order to craft relevant, interesting and meaningful messaging. Failing to plan is planning to fail, and low response rates are born right here in the planning phase.
You want a high open rate don't you? And to overcome the challenge of keeping customers engaged with your brand? So craft messaging that solves your customer's problems and takes away their pain. Customer-centricity is not a trend. It's an absolute requirement and a driver of your customer experience. Think about it... it's an open invitation for subscribers to boot you from their inbox if you're putting your business's goals and product and/or service before their problem or need.
Personalisation? Humanisation! 'Hi Jane' or 'Dear Mr Smith' is a great start (are you thinking back to the detail in The Database? P.S. Dear Csrolyn from a leading retailer really irks me...), but email marketing has moved beyond this level of personalisation to engaging with customers about their individual needs, problems and preferences. Your customer should feel like each and every email is relevant to them as an individual.
The devil's in the detail again! If your call to action (CTA) is driving traffic to your website, for the love of all things sacred, don't drop them on your home page. Take them directly to the relevant section. Nothing's more irritating than a link taking you to a home page and expecting you to dig around. Not going to happen!
The easiness of Email Marketing
Easy to get going


It's easy and relatively quick to set up on email platforms like Mail Chimpthat offer easy to use templates and plenty of user-friendly help. Have your segmented lists (The Database) and content ready and off you go.



Easy on the pocket


Many email platforms let you send a pretty high number of free emails, which immediately lowers cost of customer acquisition. No print, advertising rates or phone lines.
A very attractive option for start-ups and SMB's with a tight budget. The beauty of email marketing is that it can all be done in-house and it doesn't take a huge number of employees and saves you external agency fees.



Easy on the stress levels


Because you can set campaigns up in advance and set the send dates and/or trigger send moments, none of that sleep-stealing stress of media or print material deadlines galloping towards you. The fat lady doesn't sing until that email goes out, so you can nip in and make changes (that dreaded typo!) right up the second before the mail goes out.



Easy to share


What could be easier than the recipient you've targeted hitting the 'forward' button? They are probably going to share your email with inbox will share with people they believe also have an interest in what you are saying; this is lead generation and a credible referral without you having to lift a finger or spend a cent.





Tops for ROI


This is in the Easiness tickbox because email is consistently named as the marketing channel delivering the highest ROI. If you are in-house marketing, it is even more so, as right at the onset it delivers a lower cost to generate leads due to low overheads and no external costs.



Easy to measure


Opens, click through rates, shares, multiple views, unsubscribed, time viewed – and in real time!

The effectiveness of email marketing is incredibly easy to measure and offers precise and usable tracking information. Well, technically. If you're running an inbound leads generation campaign, you want to measuring output from all points of contact, including earth-bound stuff like telephone calls and actual feet (people visits).



Easy on the environment


No paper, no plastic, no carbon monoxide, no chemicals. Vegan friendly of the highest order. One would be detrimentally remiss to over look this digital marketing application.
If you are not already email marketing, or have not already allocated more budget to increase your email marketing efforts, or at the very least are already planning to capitalise on this cost effective, increasingly credible and precision-targeted tool, then the time is now.
Do you need to focus and strengthen your business?
References: